I was expecting a lesson on how to sit up straight and walk properly. Instead the teacher, Miss Jones, taught us how to 'accidently' flash our panties! She explained that as schoolgirls we didn't have much in the way of control in any situation. This would allow us to tease and tantalise.
I practised hard and Miss said she was pleased with my efforts.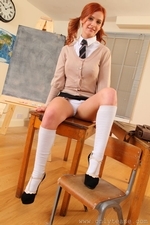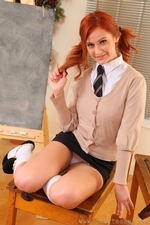 As usual Robyn got into trouble he refused to join in and got detention.
Lily was enthusiastic...
...perhaps a little too obvious though suggested Miss Jones!